Online Prescription Orders
We can use any pharmacy in New Zealand.

If you would like your medication delivered discretely to your door - we recommend Zoom Pharmacy - an innovative NZ-owned nationwide pharmacy who deliver to your door.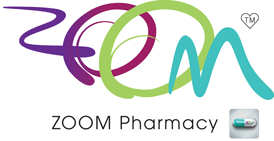 Also of note - Zoom Pharmacy offer free prescriptions, packing AND delivery if you have 4 or more meds per order (free delivery anywhere in New Zealand).
Zoom Delivery Questions
Zoom deliver to your home address, PO box or work address. (Tell us and we can make sure this goes on the prescription). Zoom use track & trace Courier Post who will usually deliver overnight in most city locations, but you should allow 2-3 working days in rural areas. You can contact Zoom here.
How much does it all cost?
FREE shipping for prescriptions of 3 or more medicines, or for orders over $100. A $5 shipping fee may apply for 1-2 medicines. Four medicines or more get free prescriptions, packing AND delivery. Check Zoom's pharmacy pricing as they may change it without telling us!
Please see Zoom's FAQ here